Why Every Meeting Room Needs a Live Edge Conference Table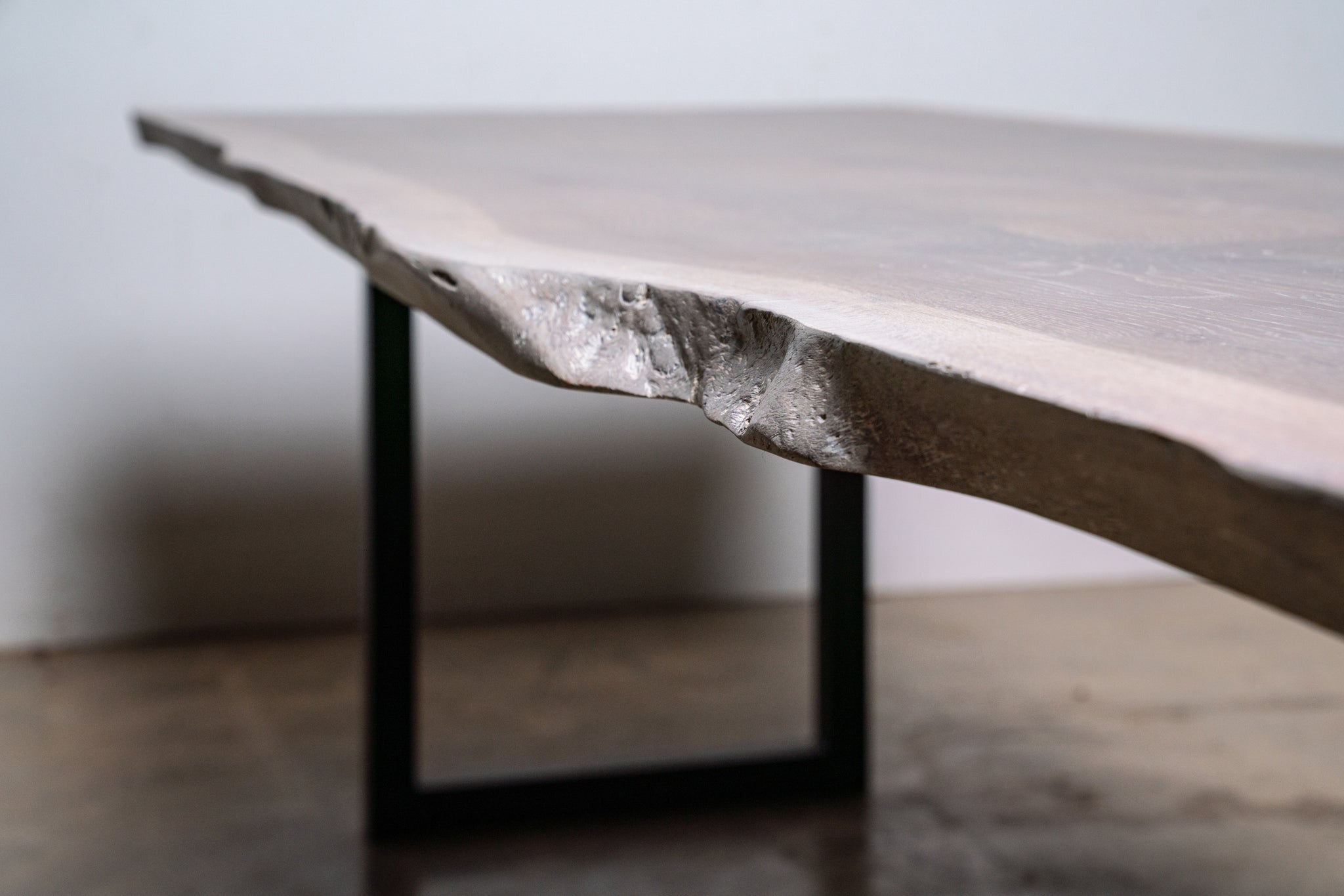 What could a live edge conference table mean for your space? Impressive, one-of-a-kind, and powerful are some of the words your guests around that table will share. Without a doubt, the impression you make at the conference table carries on for your brand and reputation for years to come. Make a statement with a wood conference table.
Solid Wood Custom Made Conference Tables
Choosing the right table for your conference room takes a bit of extra effort. Don't choose a basic, boring table, as that doesn't make a good impression on your business partners, potential investors, or clients. No matter the size or needs, choosing a solid wood conference table will ensure everyone seated at it realizes the company's potential and your passion. Our contract furniture design service can help you along the way.
Learn More About Our Solid Wood Conference Room Tables
One of the ways that Alabama Sawyer stands out is by providing our clients with truly customized solutions. Our solid wood conference tables are customized to the size and seating requirements you have for your space. We incorporate the very best in terms of appealing looks and aesthetics into this process. In the end, you have a table that's truly representative of your company and your business objectives.
Custom Wood Conference Tables Are Beautiful
There is something very charming and special about a custom wood conference table. It can help to stand out in any space, ensuring that your table makes a strong impression that your business values quality and prestige. These tables add true value to your space.
Custom Wood Live Edge Conference Tables Are Durable
While custom tables are stunning in the way they look, they are also a long-lasting solution. Designed to be durable and timeless, they will continue to be an exceptional component of your space for years to come communicating a true brand statement throughout that timeframe.
Custom Wood Live Edge Conference Tables Have an Environmental Benefit
Today's companies are always looking for ways to be more environmentally friendly, both because stakeholders recognize the importance of doing their part to support the planet and because customers and clients expect it. When you purchase a custom wood conference table, you are contributing to this in a number of ways.
At Alabama Sawyer, we use urban wood to complete this project. That means the wood used in these tables comes from wood that's felled in communities close by, ensuring that these trees do not end up in a landfill. The urban wood process enables us to reduce the impact on the demand for trees as well.
More so, urban wood is closer to home, which means there is minimal transportation involved in obtaining the wood, further cutting down on the creation of carbon emissions from the crafting of a table. We take wood that is stunning, full of character, and high in quality that would have wound up in a landfill and turn it into a beautiful piece of art for your most important meetings.
Live Edge Tables We've Made
Alabama Sawyer has crafted numerous live edge tables over the years, many of which have made a statement and continue to be talking points in the conference rooms they are located in around the world. We can create a table that's perfectly suited for just about any need.
Organic Shaped Claro Walnut Conference Table
Our organic shaped claro walnut conference table is a stunning example of the fine craftsmanship that goes into each one of the tables we offer. These tables stand out because of the workmanship and careful attention to detail put into each one of them.
Custom Live Edge Conference Tables
Take a look at some of the other custom live edge conference tables we've created over the years. We strive to offer the very best representation of what our clients are asking of us, and that often means highly specialized finished pieces that are incredibly beautiful and valuable in each of their spaces.
What to Know About Live Edge Wood Tables
It's a misconception that the investment in a live edge wood table could be complex or hard to maintain over time. Rather, we find it to be a simple process that pays off in stunning wood that lasts for decades or longer.
Our team will provide you with specifics about the care your table needs based on the type of finish and details. However, there are a few components of this process you should know about before moving further:
Finish Care: Our pieces are finished with a highly durable product that helps to ensure the table remains beautiful and does not wear even if you are using it every day. It may wear down over time, and we can help you learn a bit more about the proper way to add more finish to it when it is necessary.
Humidity Control: In some situations, there will be humidity factors to consider. Wood that's in a very dry environment could become more brittle and less durable. On the other hand, too much humidity can use the wood to expand, often leading to cracks and damage. That's why the right environment – away from direct sunlight – tends to be best.
Property Cleaning: Don't use harsh abrasives to clean your custom table but instead, use a very mild soap and cloth when needed. It's a good idea to keep it clean and dust-free as well.
Generally, caring for your custom wood table is not difficult to do and is much like the treatment you could use for just about any other type of fine wood piece in your business or home.
Why Buy a Conference Table from Alabama Sawyer
There are plenty of reasons to buy a live edge wood table, including the stunning beauty they offer. Why buy from Alabama Sawyer? We have a few key reasons we know matter to our clients.
Conference Tables and Boardroom Tables: Customized and Made to Order
One of the best reasons to invest in these tables is because we can create tables based on the specific needs you have as a business owner. That includes creating tables that fit the space and size of your room just the way it is. We can also work with you to create a table that is a unique shape. Not all companies can create a customized table like this, and that's why we often stand out.
Experience
If you are investing in a high-quality, long lasting resimercial product like this, you want to ensure it is the very best possible. Alabama Sawyer can help reassure you of this. We specialize in custom life edge, round and wide plank solid wood conference room tables. We also offer a wide range of desktops and solid hardwood work surfaces for companies. That specialization is important as it means we have the proven track record you need to expect a beautifully finished piece.
Engrave Your Logo
Allow us to make your table that much more special by adding your logo to the center of it. We have the ability and experience to craft intricate logos with precision – and there's nothing more impressive than this when visiting a business.
Local and National Clients
Alabama Sawyer is recognized for the work we do. We provide quality tables and tops to both local and national organizations. That includes commercial office conference table clients around the country. These are some of the most refined tables available, and as a result of that, you can expect us to work very closely with you to ensure the entire process goes well.
How It Works
How can you get started? Here's how easy the process can be:
Consider your space as a first step. How much room do you have, including room for chairs and movement around the room?
List out your needs, such as the types of wood you wish to be used, the size of the table, the number of seating areas, as well as your budget. You can also work with our team to ensure the finish, and overall coloring matches your goals and expectations.
Take a look at our past work. This is a great way to get some ideas of what we can do (don't worry – we can work closely with you for just about any need!).
Reach out to us now to get started.

Contact us to discuss your project

. Let us know what you like, what concerns you have, or what customization features are a must for you.
Rare Live Edge Custom Made Conference Table
If you are looking for truly amazing tables to make a big impression on your workspace, turn to Alabama Sawyer. Check out some of our other custom conference tables and get more information about our commercial and hospitality products.