Fashionable Small Tables for Every Style and Room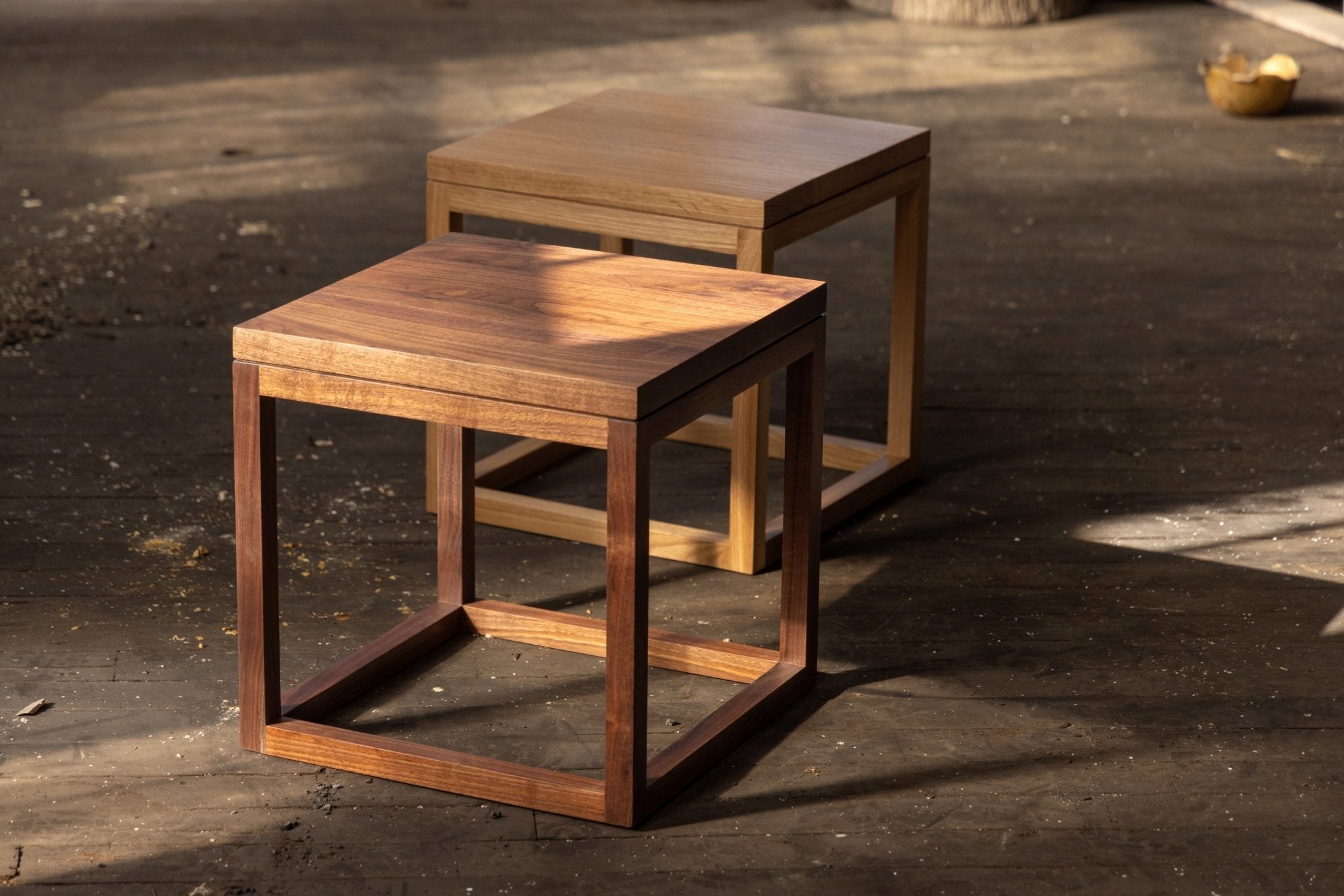 Small tables are a great way to spruce up any room in a subtle yet very noticeable way. 
Side tables, end tables, bedside desks - they are funny in a way - a sort of unsung hero. They are always the compliment - never the main attraction, and yet you cannot call a room complete nor functional without them. 
They play a vital role in the functionality and aesthetic of the room - providing a place to put your drink down. Small tables are also decorative. They provide a home for a plant or photo, maybe some candles. 
We're going to highlight some of our favorite examples, from our collection here at Alabama Sawyer, and put forth some ideas to consider when choosing these all-important, yet usually taken-for-granted pieces of furniture. In this article, we have a closer look at the supporting act, the subtle, often overlooked - yet always sorely missed; small table. 
Effortless is a fantastic word to describe the wonderful simplicity and sophistication of the Miyake Bench. These small tables make a gorgeous addition to your entranceway and serve as the perfect place to toss your hat or empty your pockets when you walk in the door. These tables are available in three different sizes and that makes them extremely versatile for design purposes.
The smallest size, 36" x 15", makes provides a modern entryway table that will sit perfectly below a large mirror or painting. One size up at the same width but 42 inches long, the Miyake transforms into an outstanding console table - a highlight for the hallway. You could also use the largest length - 60", at the foot of the bed. 
The dovetail joints are an unbridled clinic in expert craftsmanship and are put on full display. The elegance of this design draws the eye to these ancient features. The dovetail joint is a method of joinery that can be traced back to ancient Egypt, and this beautiful, understated piece emanates that sense of timeless simplicity.
Timelessness is a running theme in many of our pieces. It's difficult not to be overcome with a sense of reverence when walking through our showroom, not only for the craftsmanship but for the material - which in our minds is living. The natural beauty - perfect imperfection, is the highlight of our next piece, the Fossil Table. Named for those cracks, grains, and flaws that we admire, each Fossil Table is unique and in its way, priceless. 
These accent tables go wonderfully on the flanks of a leather sofa, or next to a leather recliner. While there is a contrast in the design, they also proved the perfect contrast to any upholstery in the room. These feature a modern leg that highlights the grains of this small, scoop-shaped end table. These tables are another minimalist accent that makes a tasteful addition to any bedroom or living room.
This narrow wood console is a rustic addition to the hallway or entranceway. The Spider Table is modern and rustic at the same time. This design is very sophisticated. The natural grains of the wood are used to highlight the main feature of this subtly stunning piece. The traditional style of joining the vertical members to the tabletop is another wonderful display of woodworking mastery. 
Box joints like this are notoriously difficult to achieve in the world of carpentry, and the Spider Table effortlessly exhibits these exquisite details. These tables are perfect for highlighting a hallway painting, mirror, or window, and are available in multiple sizes. 
You'll notice that the apron which drops down between the supporting tenons can also be ordered in various lengths. A narrow apron makes this a nice easy and open addition, while the longer apron just puts a touch more of a rustic imposition on the room. 
While many tables opt for openness and an easy, light, or minimalist approach, our Sputnik Table is a fantastic example of a different ideology. A heavier-looking piece gives a reassuring feeling of quality. Our Sputnik live edge round side tables are an incredibly organic way to pull this off. Each Sputnik side table is built of a unique piece of urban lumber that has been carefully chosen and crafted to highlight its character. 
These are a fun addition to the living room and also make for a funky occasional table. They somehow manage to straddle to divide between cool, modern minimalism and the warmth of a rustic home. They display a certain philosophy behind the craft, that highlights the work of mother nature. The three steel legs that support each chunk of carefully treated wood elevate this piece and any room it is placed in. 
These square side tables are unique and modern enough to be interesting while remaining understated and tasteful. These pieces are extremely versatile as a result. A pair of our Beach Avenue Tables adds a lovely touch to the bedroom when placed on the flanks of the bed. They also fit into the living room effortlessly. 
The pieces that connect the legs at the bottom give a sense of sturdiness and reliability. These side tables will be by your side for life. They are named for our woodworking shop in Venice, California and this design is a definite nod to the West Coast aesthetic. Available in Walnut or White Oak, these tables are a subtle enhancement that seamlessly blends form and function.
These stylish and simple round tables are incredibly versatile! While they are very sturdy they are also lightweight, meaning they are easy to move around. This makes these small round pieces perfect for parties - they are great cocktail tables. The beautiful grains of the Sweet Gum, Gulf Sand, or Epic Steel woods they come in are on vivid display and the rustic, time-worn feel of these lovely little tables is exquisite. 
They are both elegant and fun and are a great addition to almost any living room arrangement. The urban lumber we use for these is hand-selected, and the attention to detail that is on display in these small, round, end tables is beautiful. 
These small, fashionable tables add a hint of something to be desired to just about any living room, bedroom, entrance, or hallway. Whether it's an occasional table to put your things down on once in a while or an end table for your alarm clock and phone, you don't need to go big to seriously upgrade your space.