Why Put an Entryway Bench in Your Home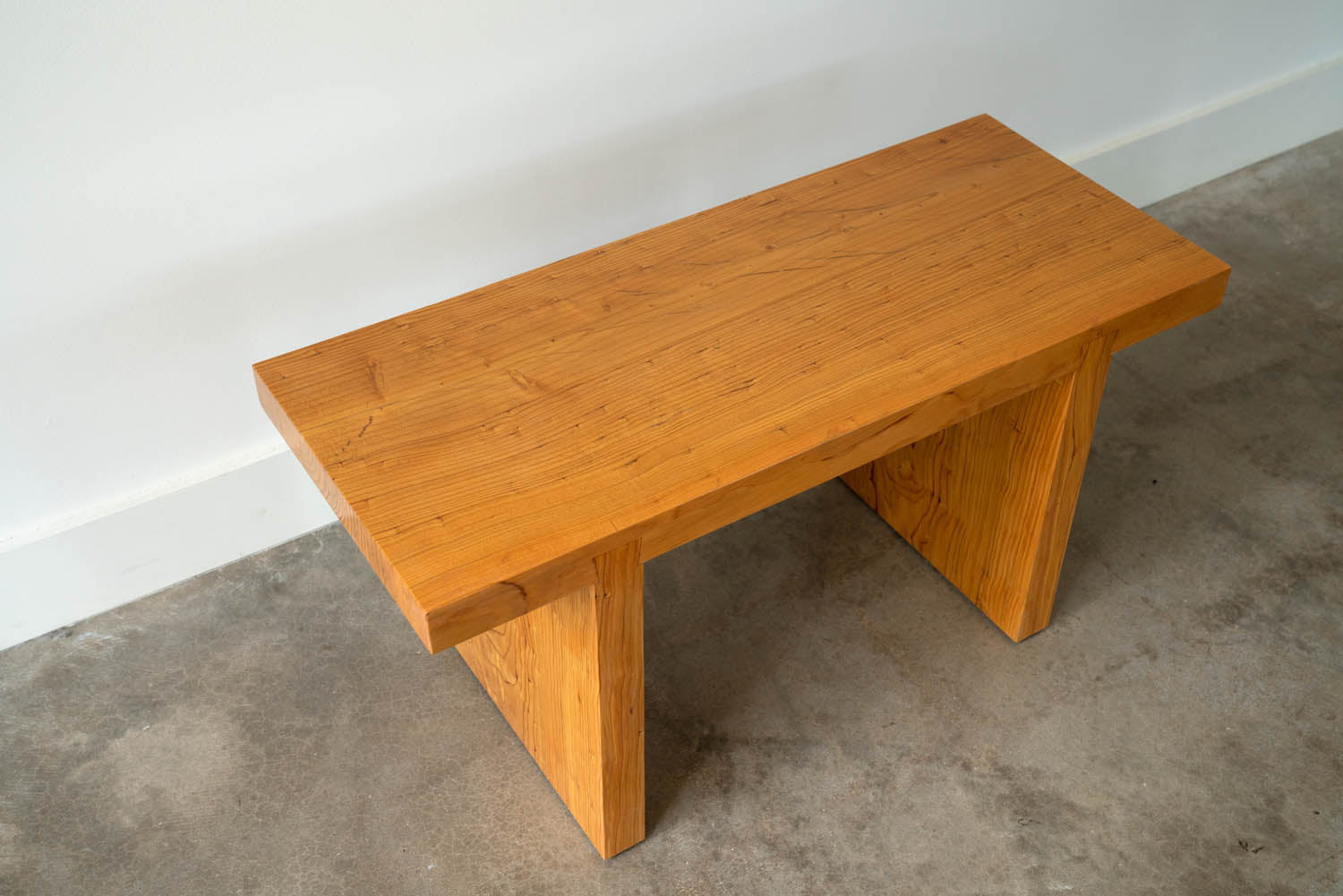 An entryway bench could be just what you need when it comes to organizing that space. When your family members walk in the door, having a place to drop a bag is helpful. It's also the perfect place to pull on boots in the winter. Having a bench here simply makes sense, providing lots of functionality for most families. Yet, it is not just about any entryway bench. It has to be one that works for the entire look and function of your space.
Why?
Consider whether or not an entryway bench or even a mudroom bench could work well for your space. Having a bench here could offer a few key benefits for you.
Entryway Furniture Helps Create Harmony at Home
A simple bench here isn't just a place to sit to put on shoes, though. It creates harmony and organization for your home. You may be able to tuck a few baskets under the bench to store gloves and scarves. Or use this space as an area to sit and wait for a friend to pull up to start your team. More so, in some homes, it can help to welcome people in, providing a first impression of what the rest of the home's spaces will look like.
How Tall Should an Entryway Bench Be?
When it comes to choosing the right mudroom bench, there are a few options to consider. Always choose a bench that works for your family. If you have smaller children, having a shorter bench works well. Many times, a small entry bench can be a lifesaver for a parent tying shoelaces. On the other hand, you can choose those that are 15 inches or higher. Another option is to choose a made for size bench – have it custom designed to fit your specific needs.
Bespoke Option: Entryway Benches by Alabama Sawyer
When it comes to finding the perfect seating for your space, there are a lot of things to think about – size, color, and features. One additional factor is whether or not the wood bench is eco-friendly. That matters to many people not only because it adds beauty and value to the home but because this bench is protecting the environment, even if on just a small scale. At Alabama Sawyer, you'll find these beautiful benches to be exactly what you need and want. Here are some examples. 
Miyake
The Miyake Seating option is perhaps one of the best overall choices for its beauty and simple design. It can easily blend into any type of setting, creating a stunning look but also being highly functional. It features floating dovetail joints along with a beautiful urban timber grain to it. It looks like a piece of art, but it is quite functional for all those needs you have walking in the door. The Asian-style joinery of the wood bench helps to elevate its style and elegance, allowing you to easily move it from one area of the home to another when there's a need for a bit more seating.
Evolve
The Evolve Bench is the go-it-all bench. There's ample room here for everything from a stack of books that needs to go back to the library to ample seating for all of the kids at once (imagine not fighting!) It's also beautiful with expressive wood joinery that helps to coordinate with the solid urban timber grain. It has more of a simple look and is more refined than other benches. Adding it to an entryway welcomes anyone to sit and relax for a moment. Even better, it can easily be a bonus coffee table when you need more space to spread out delectable treats for guests.
10 Entryway Bench Tips
When it comes to creating the perfect seating, sometimes having a few extra times can help you. Here are 10.
#1: Build a Bench Into an Alcove
A simple way to make room for a bench is to use the alcove. With custom sizing options, that's easy to do!
#2: Incorporate Storage Into Your Entryway
Did you know that adding in a bench means your instantly creating storage under the bench? You can add a few baskets here or a simple shoe rack to keep things neat and tidy.
#3: Consider It as Part of Your Whole Design Scheme
When creating your entryway space, ensure that the bench you include works well with the furniture in the adjacent room. That's easy to do when choosing eco-friendly wood items for both spaces!
#4: Use It to Add Color
You don't have to go with a basic wood tone. You can brighten things up with a pop of color or choose a white stained bench for a beautiful blank canvas.
#5: Tuck a Bench Under the Stairs
You may not have room right inside the door for a bench, but if you have a set of steps with a small area underneath them, this makes for the perfect place to position a bench, and it's still close to the door.
#6: Give Your Bench a Double Use
If you don't know how many people will actually sit on the bench, consider how it can be helpful other times, such as acting as a place to store items you or the kids need to take with you for the day, such as your bag.
#7: Make Yours Cozy with an Upholstered Design
 You can make the bench a little less stark by working with the design team to create an upholstered finish. This is an excellent way to add a bit more warmth to the area. Or, you can always add a few stylish and beautiful pillows to the bench as well.
#8: Create Interest Around Your Entryway Bench
If people are going to stop and sit, give them something to look at on the bench. That could be beautiful décor on the wall (a stunning piece of art here looks fabulous) or even a few pictures of your loved ones. You can also add in other elements, such as a table next to it with a beautiful flower or an inspirational book, just in case you have time to relax.
#9: Let Your Entryway Bench Match Your Walls
You can paint and update the look of your bench with any color or style that you like. You may wish to do this by painting the bench to match the same wall color, which would allow it to blend into the space well. The bench does not have to be the focal point of your entryway unless you want it to be.
#10: Paint Your Entryway Bench to Match Your Scheme
Be sure to paint your entryway bench in a way that allows it to work well in your space. It should not be an afterthought to your home's color scheme but a compliment to it. Update it to be a piece that adds depth and color that works for your home's beauty. 
Reasons to Be a No-Shoes House – The Tradition + Reasons
Let's give you some reasons to be a no-shoe house.
You'll Cut Down on Vacuuming
No one likes to spend a lot of time vacuuming, and when the dirt stops at the doorway, you don't have to!
You'll Banish Toxins
Anything they bring in on their shoes stays in the entryway, no matter what toxins they are.
You'll Stay Healthier
Less grime and less bacteria from who-knows-what-they-step-in can make your home a healthier place to live.
You'll Reduce Chemical Exposure
Many people walk through all sorts of chemicals. By taking the shoes off at the door, those chemicals don't make it into your home.
You'll Strengthen Your Feet and Legs
Walking without shoes on in the home is better for your leg muscles and overall posture.
You'll Create a Sacred Space
A cleaner home is one of peace and tranquility – why not help that along by encouraging no shoes in the home?
You'll Leave Negativity at the Door
Many cultures believe that taking your shoes off helps to leave all of the bad energy of the day and the world outside of your home.
Convey Respect
Having a home that's clean means a lot to those who live there. It's a sign of respect to take your shoes off to honor that.
Get Ready to Relax
Without a doubt, there's no better feeling than slipping out of your shoes after a very long day.
Reduce Noise
Without shoes on in the home, there are no worries about the sound of them racing down the hall or click-clacking on the wood floor.
Get an Entryway Bench
Be sure to take some time to check out all of the options available to you from Alabama Sawyer. We know you want to sit down and relax with us.