Standard Table Heights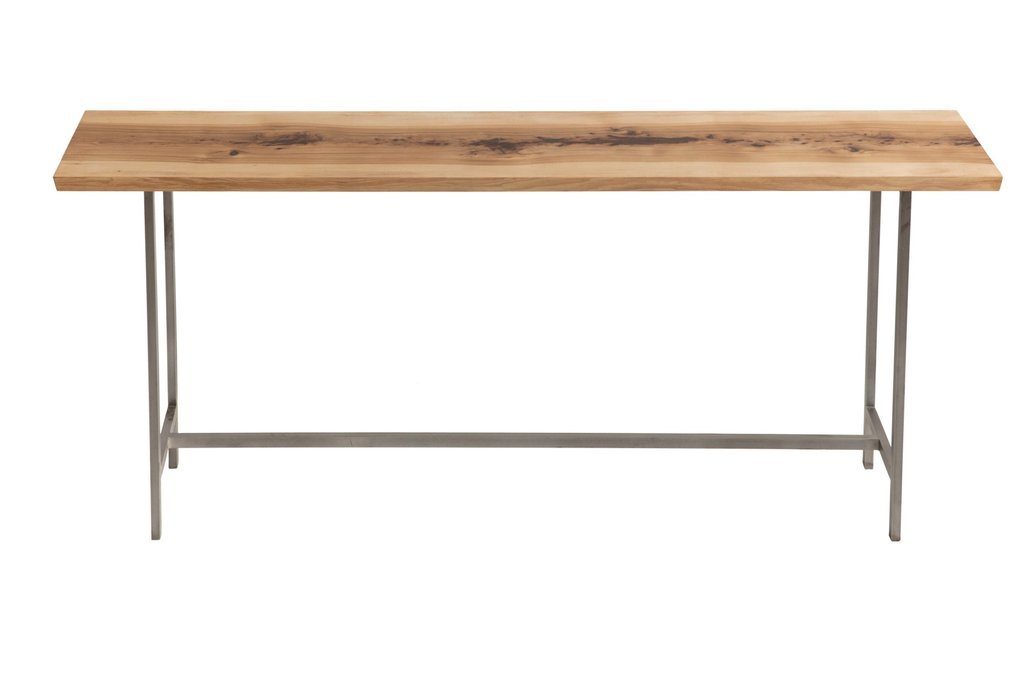 There are standard table top heights, then there are custom table heights. The height of a custom table will vary depending on table function, user height, chair height, and several other factors. This blog post aims to explore how you might pick a custom table height - and then give a list of standard table heights. 
How Do I Measure Table Height?
Before we get into the nitty gritty, let's discuss how to measure table height in the first place. According to a Parotas blog post, "Standard table height measurements are taken from the floor to the top of the table or counter. This means you need to consider a lower chair height if you have a thick table top or overhanging counter." (Source: Parotas, "A Guide To Standard Table & Chair Heights")
Chair Height
Speaking of chairs, we'd advise a table height that allows for adequate leg room and space to slide the chair underneath the table. Generally, chair heights range from 17-19 inches. We recommend at least 10 inches between chair seat and table top. These discussions should beg the question, 'how do I measure the height of a chair?'
According to the Parotas blog post, "Standard chair heights are measured from the chair legs to the top of the seat surface. You do not include the height of the chair back or armrests in your measurements, unless you plan to slide chairs fully under the table or counter. If you are choosing chairs with armrests, allow around 7 inches (18cm) between the armrest and the underside of your table" (Source: Parotas, "A Guide To Standard Table & Chair Heights")
Elbow space is another important consideration that's very similar to the need for adequate leg room. No one likes using a table that's too tall to rest your elbows on. On the other hand, no one likes jamming their legs under a table because it's way too small. 
User Height
This is a pretty big consideration honestly. How tall or short are the users? If the users are really tall, consider a taller than average table top. The same goes for shorter users, who may require a shorter than average table height. These questions should definitely factor into the process of picking a table height. 
Basically, planning is your best friend when it comes to choosing a custom table height.
Standard Table Top Heights
That said, here are the standard heights of dining tables, counters, coffee tables, and bar tables. Big thanks to Leigh for making the graphics! (Please note: each of the pieces you see below is an Alabama Sawyer table. Find one on our website.)
Wide Plank on Legacy Base | Alabama Sawyer
Lanett Credenza | Alabama Sawyer
Orchard Table in Red Oak | Alabama Sawyer
Wide Plank Table on Sunrise Base | Alabama Sawyer
SOURCES
"Empty Table." 
PublicDomainPictures.net
, www.publicdomainpictures.net/en/view-image.php?image=271485&picture=empty-table.