Decorating Terms: Defined and Explained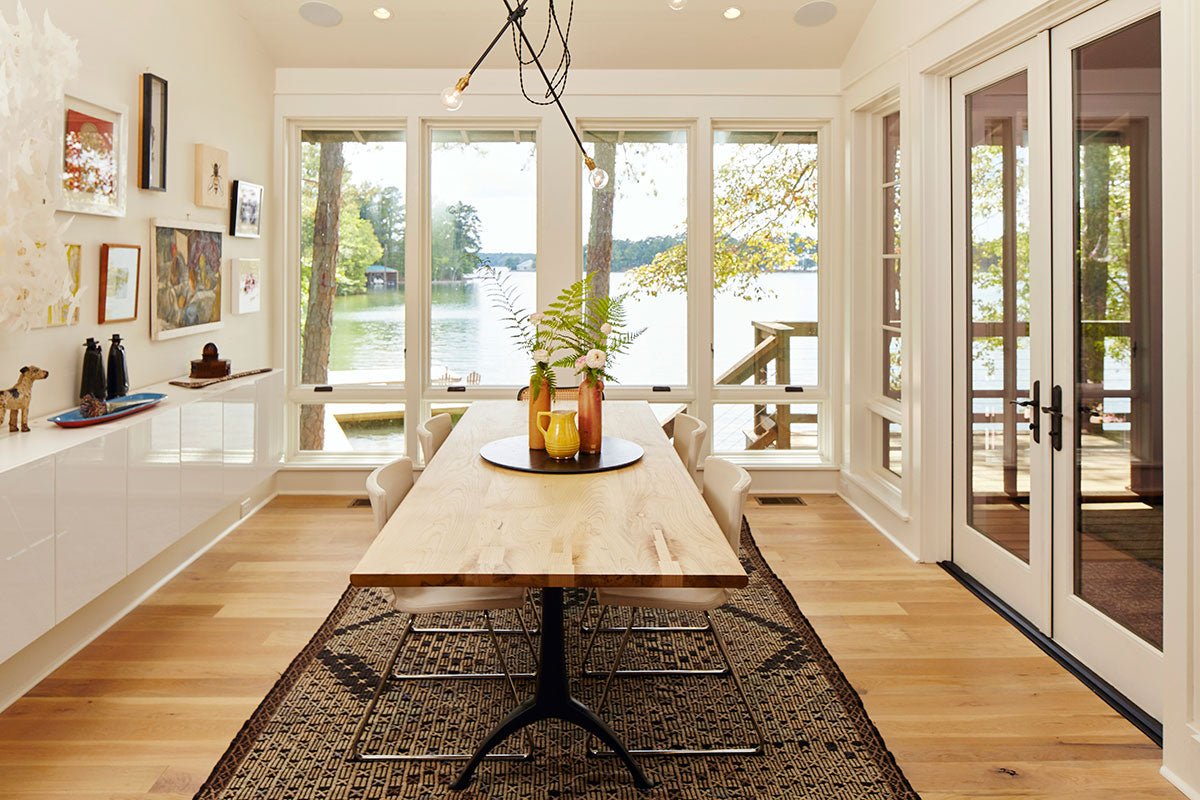 Decoding the Language of Decor
There sure is a lot of terminology associated with interior design and home furnishings! The world of interior design is constantly changing and evolving as new trends come and go, and classics stick around. It's a part of human culture, history, and tradition, and the terms can be enough to make your head spin! Luckily we've got a helpful cheat sheet here to help you navigate interior decor lingo:  
Credenza
Not to be confused with the very similar "sideboard" or "buffet". A credenza is essentially a long low cabinet. They are often used as TV stands but can go in the dining room or office as well.
Breakfront
A breakfront is a large cabinet or bookcase with one defining feature. The center on a breakfront projects out - like the bow on an icebreaking ship.
Console Table
This is simply a narrow table, that is designed to be placed against a wall. These will often be found in hallways or entranceways.
Sideboard
Similar to a credenza, a sideboard is a long, low cabinet, although a sideboard is usually a little larger than a credenza. On a sideboard, the cabinets often extend all the way to the ground.
Banquette Dining table
A banquette dining table is essentially a long dining table that comes with a bench instead of chairs to maximize seating.
Coffee table
Most readers will recognize this one! A low, long table designed to go in front of the sofa or in the middle of the living room.
COM
This stands for "Customer's Own Material". The term is used in the furniture design process when a customer wants a certain material they have already chosen used on the furniture.
Custom
In the world of interior design, 'custom' is a term used to refer to anything that is tailor-made. Usually, the customer is heavily involved in the design process.
Armoire
An Armoire is essentially a freestanding closet. A decorative cabinet designed to hang clothes.
Cabriole Leg
A cabriole leg is a term used to describe a specific style of a decorative furniture leg, characteristic of Queen Anne furniture.
Upholstery
The soft, padded, covering that is attached to the furniture is like a sofa.
Settee
This is a style of sofa or long upholstered seat that comes with a back and arms.
Victorian
Furniture and architecture often fall under the same design eras. Victorian design refers to both the architecture and furniture styles of the Victorian age.
Mid-century Modern
Another term for both architecture and furnishings - mid-century modern refers to the style of America around the 1940s.
Focal Point
A design term is used to describe the centerpiece of the room.
Étagerè
This is a style of hanging shelf that is used to display ornaments, photos, and decorations.
Chinoiserie
This is another term to describe a style. This 17th-century design style reflects Chinese motifs.
Chaise
A term to describe an elongated, decorative chair.
Case Goods
This is interior designer slang for any furniture that features storage.
Bauhaus
From 1919 - to 1933 the Bauhaus art school in Germany had the world was captivated by a design originating from a concept. "Form follows function" is the idea behind the simple, modern styling that is Bauhaus.
Barcelona Chair
From the Bauhaus school of design comes this famous style of chair that looks like it should fold, but doesn't.
Bobeche
This is the term for a glass collar on a candle holder that is designed to catch the wax drippings.
Chifferobe
This is essentially the same as an armoire, except a chifferobe comes with drawers as well as a closet-like space.
 å