How to Create a Charcuterie Board for Thanksgiving Dinner and Holidays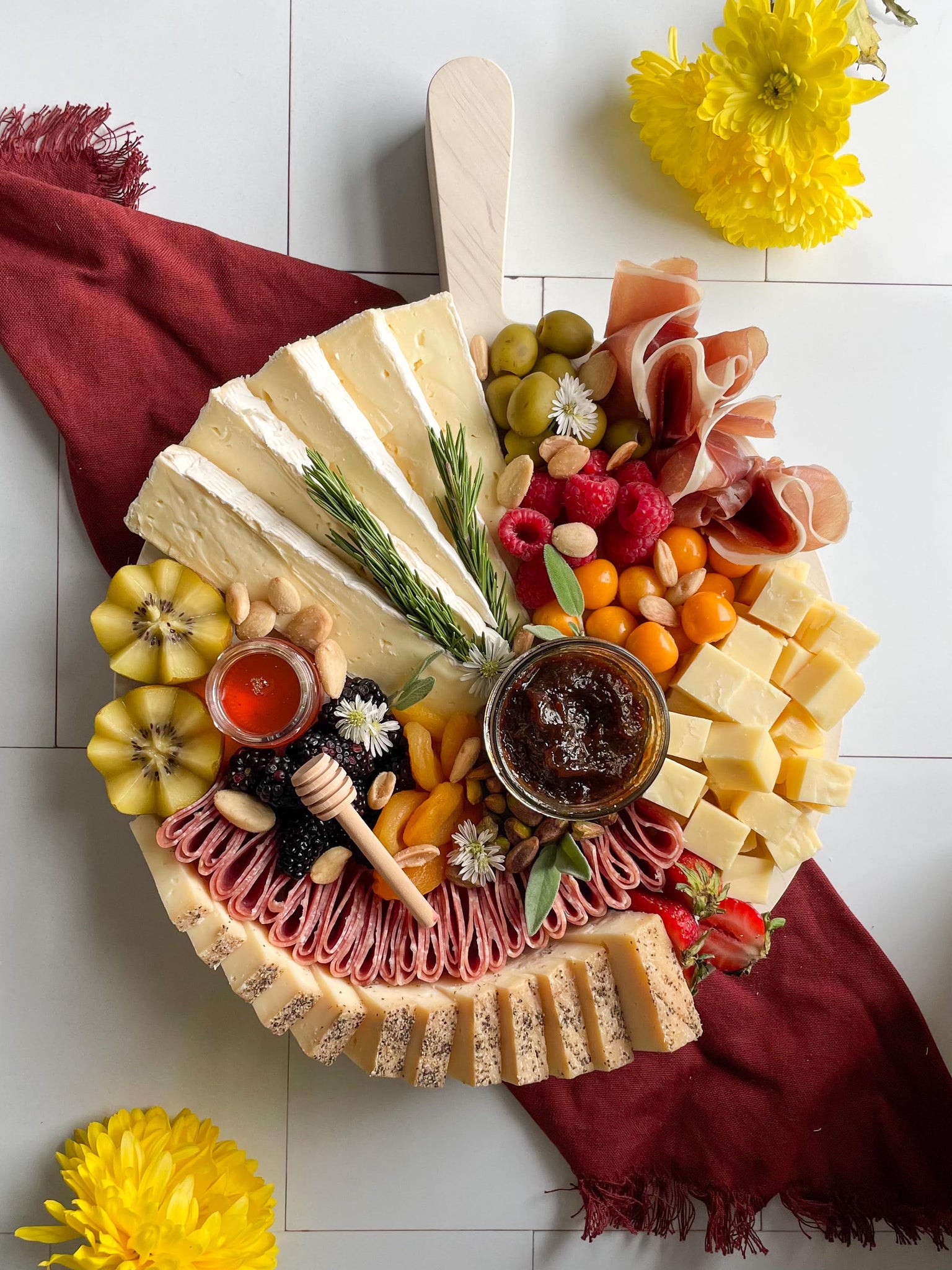 A charcuterie board has become a must-have at many celebrations. It is an efficient, beautiful way of providing people with snacks. It's more of an activity than a meal, and it is super simple to put together. With the right wooden charcuterie board from Alabama Sawyer, you can create a pretty impressive spread that your guests will love. Whether you're considering A Thanksgiving board or one for any other holiday, we have some tips to help you succeed.
How Is Charcuterie Pronounced?
Let's start with some basics about charcuterie. Charcuterie pronunciation isn't always simple. Try this: shaar-koo-tr-ee. You can also say it as shahr-ku-tuh-ree.
What Is Charcuterie?
So, what is it? In short, it is a type of culinary art form. It's a way of displaying bite-sized foods on a wooden board or table. Typically, it includes meats, cheeses, fruits, nuts, and crackers, but there are endless variations to it. You can create one that fits any taste you have, and with a bit of help, you can even customize them as holiday characterize boards.
Is Charcuterie French or Italian?
Charcuterie is a French term to describe processed meat products. In Italian, this is called salumi. While the terms are the same, the types of foods and items placed on these boards can range widely, with French or Italian products. Keep in mind that today, charcuterie is widely used in the U.S. to represent more than just French or Italian meats and cheeses.
How Do I Make a Charcuterie Board?
Start with the right board, like a live edge charcuterie board. This is the foundation for your display, and you want it, in itself, to be beautiful and even unique. Any size works based on the number of people you are planning to serve. You'll also need a few serving plates, toothpicks, and napkins, along with spoons and forks on the board to help people serve themselves.
What Is Typically on a Charcuterie Plate?
Now that you have the setup let's talk about what goes on the average charcuterie plate. First, remember that this is not necessarily a meal, and you do not need to portion out the foods. Rather, you are encouraging your guests to help themselves, which means they choose what they want to enjoy. Most of the time, there are some specific items on these boards (and you'll want a large enough variety to meet most people's needs). Here are some common items you should offer to guests:
Cured meats
Nuts
Fruits (including dried and fresh fruits)
Cheeses (choose several types of hard and soft cheeses)
Crackers or small baguette slices of bread
Jelly or jam
Olives
When choosing each of these items, be sure to look for specific products that work for any theme you are creating. Or just choose the types that you love and want to use.
The Best Cheeses to Use
Start with the cheeses. You will want to choose those that offer some variety since most people are particular about the types of cheeses they will use. Try to have three options that come in various forms, such as a soft cheese they can cut, a few slices of cheese to fit the cracker, and some that can be broken off.
Great cheeses include:
Blue cheese
Pecorino Romano
Parmesan Reggiano
Brie
Smoked gouda
Fresh Herbs
Herbs can be an excellent way to add a bit of spice to any plate, but they also work well as a way to add some green color to the board. Add a few sprigs of parsley, rosemary, or basil to your board. They can add fragrance to it as well, helping to elevate the look and feel.
What Kind of Meats to Use
You have a lot of options when it comes to meats. Try to elevate the quality and selection of meats to match the type of event. Some great choices include:
Salami
Sausages
Pepperoni
Prosciutto
Capicola
Add Fruit
Next, add some fruit for a bit of sweetness. The cheese and meats typically create a lot of salt, so the sweetness of dried and fresh fruit works well here.
You can choose any type of fruit that works for your theme, with berries being one of the easiest and best options overall. You can also add some small peppers (like pepperoncini) and artichoke hearts to give it more of a hearty feel.
Fill in Spaces with Dried Fruit, Nuts, and Jams
Next, place your dried fruits, nuts, and jams on the open spaces of your board. You'll want to ensure you're filling in as many openings on the charcuterie board as you can.
What Nuts Should I Add to My Board?
Choose easy to eat nuts, like almonds and pistachios, though there's no limitation on the type of nuts you can use. Be sure to choose several types to create a blend of options for guests.
What Crackers Should I Use?
Next, you need something for people to put these meats and cheeses on, and crackers tend to be the best option. You can choose a range of flavors, such as those with a bit of a peppery bite or mild, simple crackers. Choose options in various styles and shapes.
How to Make the Perfect Charcuterie Board for Any Holiday
With a cutting board in hand, you can make a charcuterie board for just about any holiday. That includes everything from Valentine's Day to Halloween. Make them for kids or adults, or both. Here are some tips for a few.
How to Build a Gorgeous Thanksgiving Charcuterie Board
The best holiday charcuterie is Thanksgiving because it is a great way to bring people together and show thanks. Here are some ways to make this board special:
Cut out the cheese with cookie cutters to spell out "thankful" for a center decorative item
Choose items that are orange, deep red, and white.
Add in some savory and sweet options like cinnamon topped cheeses.
For Thanksgiving, try to use hearty, more harvest-focused items. You can place sausages and cheeses that offer more of a robust, earthy taste to them.
Halloween Charcuterie Board
For Halloween, you'll want to be sure you get some fun colors and themes going. You can use a variety of items to decorate. Here are a few tips:
Place a few carved pie pumpkins as a centerpiece.
Use the meats and cheeses to create a skeleton shape.
Place little black peppercorns on white cheese that's cut in a ghost shape.
Being creative with decorating these boards is a must. For a more elegant version, look for fruits, veggies, and cheeses that are darker in color or orange.
Christmas Charcuterie Board
For Christmas, think about the shape and the items on these boards based on what you love the best. Here are some ideas:
Use a cutting board to design your items in a Christmas tree shape.
Create rows of different colored items to make it look like the tree is decorated.
Consider green and red colored items, and don't forget to add some sweets like cookies to this display.
Hanukkah Charcuterie Board
For Hanukkah, aim for foods that are more common in the Jewish culture. Here are some simple options to consider:
Make a latke board with all of your favorites.
Choose smoke salmon and cream cheese that's of the finest quality.
Consider colors like white and blues, but focus on a holistic look.
You can add a few kinds of cheese cut into the shape of a star to this board, too. Nuts and crackers help to fill in the spaces.
New Years Eve Party Charcuterie Board
New Years Eve tends to be the type of event where people spend a good amount of time snacking, so these boards tend to be a bit more robust. Consider a variety of options, such as those with meats and others with sweets. Here are some tips:
Consider a board with cocktail shrimp, cheese, and crackers for a simple way to feed a group.
Purchase containers or cut out the shape of the year to add decoration.
Consider the use of more elegant foods like prosciutto wrapped melons.
Fourth of July Barbecue Charcuterie Board
Keep the summer theme the main focus of this type of board. Here are some great ways to make it happen:
Focus on red, white, and blue everything!
Don't overlook the use of barbeque items, like smoked brisket, pulled pork, or pulled chicken.
Add in rolls instead of crackers for munching.

Birthday Charcuterie Board
Make it personalized! For the best birthday charcuterie board, you'll always want to focus on things the birthday person loves.
Add in fruits and cheeses they love in their favorite color palette.
Take a cultural focus – where their heritage plays a role in what you add.
Add in some birthday streamers and a few decorative items with their name or age on them.

Fifth Year Anniversary Charcuterie Board
A Charcuterie board is the perfect gift for a 5th anniversary. Have it engraved with the couple's name and their wedding date. Then, dress it up with fine cheeses, meats, and even some wine for an intimate evening alone.
It's possible to make any holiday board special if you consider all of the options available to you.