Bread Box: The Essential Kitchen Tool for Every Home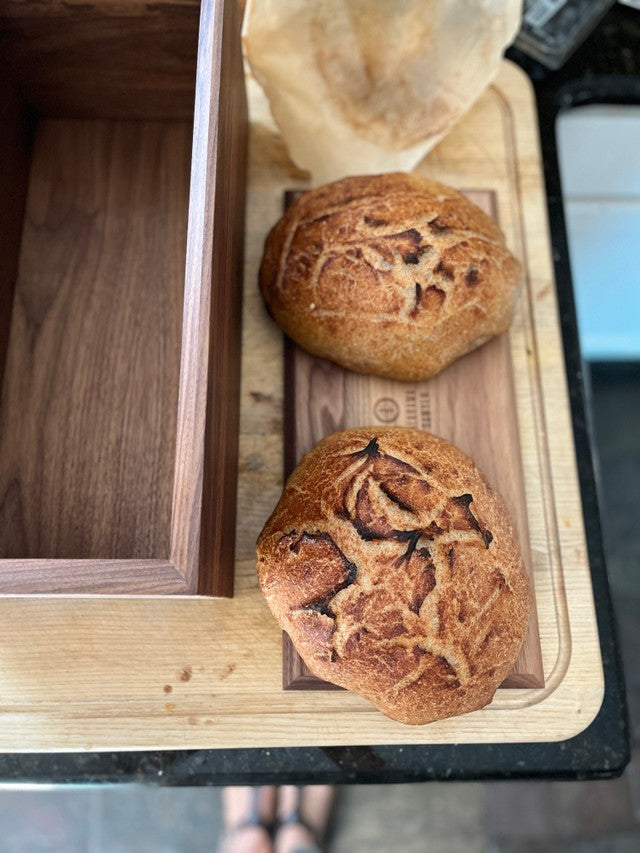 Have you thought about adding a bread box to your kitchen? It is a simple yet important way to keep bread fresh. It also adds a bit of style to your space. Here's what you need to keep in mind.
Why Use a Bread Box?
A simple wood bread box may not seem like a big deal. However, there are a few good reasons why you may want to have one in your kitchen.
Keep counters uncluttered
One of the best reasons to use a bread box is to keep things like loaves of bread off your countertops. For a clean, sophisticated look in your kitchen, you need clear countertops. Adding a bread box makes that possible. 
Keep loaves fresh
The most common reason to buy a bread box is that you want to keep your loaves fresh. There's nothing quite like a loaf of crusty bread, but that freshness does not last long. In a modern wood bread box, there's less air circulating, which helps keep the bread soft longer. 
The Best Wedding or House Warming Gift: A Wood Bread Box
If you want to give someone something that is truly memorable and valuable for their wedding or as a housewarming gift, a wood bread box may be one of the best choices out there. It may seem simple, but it is certainly unique and a valuable addition (that's functional too!) to their kitchen.
What to Look for in a Bread Box
Once you've decided to purchase a bread box, the next step is choosing one. To do that, you'll want to consider several key features of them based on what looks great and functions well in your space.
Dimensions 
The typical store-bought loaf of bread measures around 8 to 10-inches in length and about 4 inches in width. If you typically purchase more than one loaf or enjoy making your own shapes and styles, you'll need to think about these factors before you purchase a bread box. You don't want them too crowded in this space.
Design
Look around your kitchen. Are there colors or designs that hold true to all of your countertop items? If so, then you'll want to try to match that. Consider things like the type of wood used, the color, and any detailing added to them.
Material
It's possible to buy a bread box in a wide range of styles. A traditional and rustic option is to purchase a wood bread box, perhaps made from walnut or another beautiful wood. The materials are important – you want it to be beautiful and elegant but also resistant to moisture and sustainable when possible.
How Do You Store Bread in a Bread Box?
It's easy to store bread in a bread box. You just need to place it into the box and close the lid. You can leave it in the plastic it comes in, or especially in dry areas, you can leave it exposed to the air. That may cause it to dry out a bit more. Wrap it in a light tea towel for a bit more protection from the environment. 
How to Care for Your Bread Box
Depending on the quality and type of finish, there are a few things to keep in mind. First, keep it clean and dry. Wipe it out consistently to keep any crumbs from settling on the wood for a long period of time. If it is made of a high-quality wood, you may need to apply a wood oil to the grain to keep it looking beautiful. If you need to wash it, use a mild soap and handwash it. Ensure it dries thoroughly.
Walnut Wood Bread Box by Alabama Sawyer
The Modern Walnut Wood Bread Box from Alabama Sawyer is perhaps the best choice for any countertop. This beautiful, rich finish works well in any modern or rustic space. This artisan piece is also eco-friendly and offers exceptional craftsmanship. The lid is flush and can be removed to use as a cutting board if you like. There's enough airflow to keep bread fresh and dry but not exposed. Made from urban trees, it is a stunning piece of wood workmanship that's impossible to find anywhere else. 
Recipes: Fresh Bread Made Daily
You can almost smell it! Walking into your kitchen and getting a big whiff of fresh bread is an excellent way to start any day. Here are a few recipes to keep in mind to ensure you get that feeling every day.
Walnut Bread
Ingredients:
1 ½ cups of warm water
1 tablespoon of active dry yeast

 

½ cup of honey
¼ cup of olive oil or walnut oil
1 ½ teaspoons of salt
6 cups of unbleached all-purpose flour divided

 

2 cups of walnuts cut into pieces and lightly toasted
Instructions:
You can find the full directions at King Author Baking. Here's a quick rundown of what to expect:
After dissolving the yeast in water, add ½ cup of flour to the yeast and allow it to sit for 10 minutes. Then, mix in the honey, oil, and salt. Add the remaining 5 ½ cups of flour, 1 cup at a time, until the dough comes together. Knead the dough, then put it in a bowl to allow it to sit. You'll then need to knead and shape the dough before baking.
Banana Walnut Bread
Ingredients:
1 ¼ cups of all-purpose flour
1 teaspoon baking soda
½ teaspoon fine salt
2 eggs at room temperature
½ teaspoons vanilla extract
½ cup of unsalted butter
1 cup sugar
3 ripe bananas mashed
½ cup toasted walnuts
Instructions:
You can find the full recipe at Food Network. The recipe involves sifting the flour, baking soda, and salt together. You'll need to whisk eggs and vanilla together as well. Then, you'll pour the egg mixture into the butter and sugar that's mixed in a stand mixer. Add in the bananas. Use a rubber spatula to mix in the flour. Baking for about an hour.
No-Knead Cranberry Walnut Bread
Ingredients
2 cups of bread flour
1 cup whole wheat flour
2 tablespoons of sugar
1 ½ teaspoon kosher salt
1 teaspoon ground cinnamon
½ teaspoon ground nutmeg
½ teaspoon active dry yeast
1 teaspoon vanilla extract
¾ cup mild
¾ cup water
2/3 cup dried cranberries
2/3 cup chopped walnuts, toasted
You can find the full receipt at Simply Scratch. This recipe requires mixing the bread flour, wheat flour, sugar, salt, cinnamon, and nutmeg in a bowl and then adding the yeast. The cranberries and nuts are then added. The milk and water is warmed first, removed from the heat, and vanilla is then added to it. Eventually, you'll pour the milk into the dry ingredients and mix. It needs to sit overnight before being backed.
Check Out These Products
Looking for more ideas? Check out our large cutting boards perfect for serving. The narrow cutting board is perfect for picnics and special servings of goodies.