Beautifully Handcrafted Wood Countertop Compost Bin made in the USA | Alabama Sawyer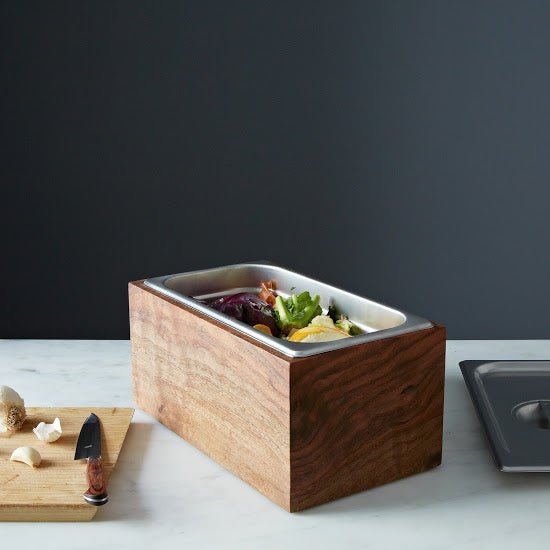 There are both ethical and aesthetic reasons to purchase an Alabama Sawyer countertop compost bin. They are also practical pieces if you value renewable energy and sustainability, and can help you become organized enough to comply with legislation in some jurisdictions - SB 1383 makes separating compost required by law in California beginning in 2022, for example.
Kitchen composting bins for countertop placement provides most people with the convenience to recycle organic waste that they otherwise would not do without it. Our beautifully handcrafted wood countertop compost bin is made from 100% reclaimed urban wood that would have gone to waste itself before being made into a lovely and useful tool. That makes the life and new life of these fallen trees poetic in a way, we believe. Here is some more information about the countertop compost bin and why we at Alabama Sawyer are on a mission to make you realize you want one!
The Convenience Of Kitchen Composting Bins For Countertop
Alabama Sawyer realizes that the biggest hurdle to recycling and composting is convenience. The truth of the matter is that most people probably would be doing both if they weren't such a hassle. As of yet there are not many products on the market that make it any easier - our Noaway Countertop Compost Bin representing one of the few.
The simple genius of a compost bin for counter placement is that it puts the tools necessary for planetary change closer to you than the more common route that sends organic material to the landfill. With the countertop compost bin being right next to you while you work in the kitchen - chopping vegetables, slicing the fat off of meat, shucking corn, etc. - it becomes easier to throw that organic material into the bin rather than in the trash. This will make it easier (and more likely) for you to then take the collection to your backyard pile or transfer it to a municipal program where it can be reused as soil treatment elsewhere instead of adding to our already burdened landfills!
Our Wood Countertop Compost Bin Fits Into Your Design For Modern Living
Providing you the tools and convenience to do a noble task is one thing, but making a product that you will actually be proud to display is another great aspect of Alabama Sawyer furniture. That's what you get with our handcrafted wood countertop compost bin. It's a sleek and modern design element that showcases the beauty and efficiency of nature, and fits in well with almost any modern design. It's also a beautiful statement piece for the modern living lifestyle.
Our standard size Noaway Countertop Compost Bin will add an artful touch to any kitchen whether it aims for a rustic or modern vibe. This is an elegantly discreet yet stylish and high-quality compost bin that can be used to hold most organic wastes, including banana peels, coffee grounds, and egg shells until you transfer them into municipal green bins or your own garden compost. It comes with a stainless steel food grade container on the inside that is easily removable and sturdy enough to make your transfers hassle-free without messy spills. 
Because of the stainless steel insert you will have no trouble keeping it clean. It is safe to wash by hand or in the dish washer with any common dish detergents. Reduce waste, provide nutrition to your soil, and decorate your kitchen - all with one simple and easy to use product.
We use different types of wood in the making of our kitchen composting bins for countertop. Magnolia is the lighter wood and is listed with either a clear oil or a white oil finish. Walnut is the dark wood. We categorize some walnut bins as "sapwood" when it has more lighter sapwood than darker heartwood. They are all beautiful and unique, and all our products will show varied coloring and grain. The pieces have not been stained and the stainless steel inserts are imported. Dimensions: 13"L x 7.5"W x 6"H. Capacity 6.1 quarts. 
And if those dimensions are too big for your kitchen space, Alabama Sawyer also offers one you might find more ergonomic: The Petite Noaway Handcrafted Wood Countertop Compost Bin. Our Petite Noaway Compost Bin has all of the great features of the larger bin, but it is perfect for urban dwellers or anyone who is struggling with clutter or small spaces. These are crafted with the same love and beauty as the larger models to add a hint of natural style to your kitchen and serve a purpose by reducing waste and giving back to the environment!  
The petite countertop compost bin performs its work of utility and aesthetics without crowding out your other kitchen appliances. The imported stainless steel imports can hold nearly every organic waste material your kitchen sees, and makes transporting to your garden or compost center a breeze. It is also easy to wash and polish so that it keeps its luster. The dimensions for the petite model are 7.5"L x 7.5"W x 6"H, and it has a holding capacity of 2.7 Quarts.
Alabama Sawyer Handcrafted Wood Countertop Compost Bin
A compost bin for counter placement would be a convenient way to store organic waste and transport it to the garden or municipal collection service. It would be even better if it was made from handcrafted wood and fit in with most modern design elements. All of that is achieved by the Noaway compost bin for counters from Alabama Sawyer. 
We reclaim urban wood and repurpose it into functional, beautiful furniture for homes that are proud of doing their part to help the environment. You can browse all of our wonderful products at the Alabama Sawyer Store.