All About a Farmhouse Table - the Perfect Dining Table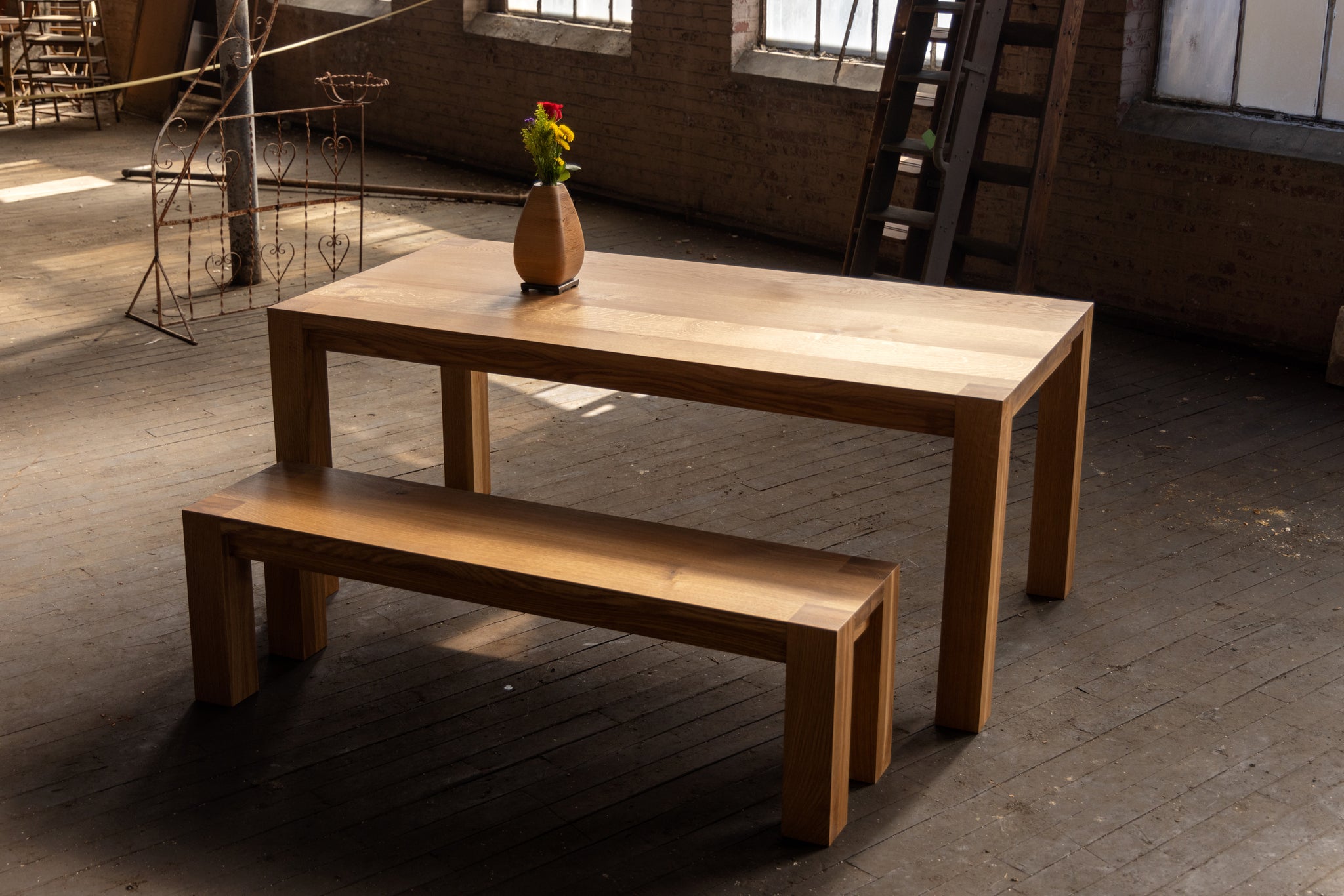 Have you dreamed of having a beautiful farmhouse table in your dining room, one where the entire family felt welcome to come, sit, and relax to share a fabulous meal, or perhaps to do some homework or play board games? These tables are versatile and stunning, especially when crated with care.
What Makes a Table a Farmhouse Table?
It's easy enough to find a simple wood table. Yet, that doesn't make it a true farmhouse table. These tables bring nature indoors, and while they can be elegant, they are often beautifully rustic and charming due to their natural beauty. If you want to bring nature in, look for a table that looks like it was handcrafted just for your space.
5 Things You Need to Know Before Buying a Farmhouse Table
If you want to enjoy this type of incredible work of art for your dining table, there are a few things to consider before you just choose one. The very best of them, like those sought after by an interior designer, can really set the tone for the home.
They Are Often Leafless
A farmhouse table is a big expanse of wood (though you can choose from various sizes). They are not likely to have a leaf in them to add more space to them, though. Rather, the table is more simplistic and rustic in nature without these types of elements. When choosing this type of dining table, be sure to select for the number of people you have, as you won't find it easy to add to these tables.
They're Heavy
These are made from solid wood. Though a number of different wood types could be used, most of them are very heavy woods, which leads to a sturdy, highly durable table itself. As large, dominating tables, they create a statement within the room they are in. If you're looking for a table, you can move from one area to the next, this is not the right choice for you.
Mind the Apron
Most of the time, the dining room table will have an apron. This is an overhang over the top edge of the table. It adds dimension and character but also will need to be careful consideration when choosing chairs. Be sure the chairs are low enough that there's ample room for a person's legs under the apron. Some tables have a shorter apron than others, but most will have at least one.
Are Farmhouse Tables Out of Style?
As you consider investing in a table for your home, you want something that is fitting to your space. That is, don't choose just because it is trendy or stylish right now. A farmhouse table is the type of table that is always in style, thanks to the chunky, beautiful wood that makes it up. It works well in a traditional home where there is beautiful wood throughout, but it can also be an elegant addition to a stunning modern home, depending on the features of the table, including the type of wood, finishes, and features.
A modern farmhouse table may be made of reclaimed or salvaged urban wood that's painted a modern color or a simple clear finish. You may also find those that blend colors together or add in a bit of metal detailing. That helps to make them a good fit for a more modern interior design.
Yet, there's no doubt the farmhouse look remains a popular one. It is easy to use in many styles and decors. You can make it your own.
Choose the Right Wood
One of the biggest decisions you need to make is the type of wood for your farmhouse table. The wood you choose will impact the overall cost, but also the design and features of the finished table. That's why you want to be careful.
Softwoods tend to be a popular option for farmhouse tables for many reasons. This includes woods like pine, redwood, spruce, cedar, and juniper. Even better, choose reclaimed wood, wood that has been downed already, especially that which comes from urban development.
Softwoods offer a variety of benefits. It is:
More rustic and natural looking than hardwoods creating a more charming farmhouse dining table.

Softwood is more readily available, and that means that trees do not have to come down just to create your table.

It's affordable. Softwoods tend to be more affordable than other types of woods. That's due in part to their availability.
There are a few disadvantages to using softwood for furniture that you need to take into consideration. For example, some do not take stain well. For example, if you plan to use fir, it's not going to stain well and will maintain more of a natural hue. Not all softwoods are like that. Some softwoods also have a more coarse texture to them as well. They could also stain or discolor over time, but proper maintenance and care can reduce that risk.
What Is a Good Size of a Farmhouse Table?
It's always a question that people ask, and with good reason. If you need a dining room table for 8 people, don't settle for a table that doesn't offer enough room for them. For 4 people, perhaps for a breakfast table, consider nothing smaller than a 4' rectangular table. For those who are looking for a table for 6, don't choose anything under 6'. For 8 people, you need 8'. What's most important here is choosing what works for your space and your family's needs.
6 Alternatives to a Farmhouse Table
If you are looking for a farmhouse table but you are not sure which to choose, consider these recommendations for your dining table. You are sure to find them nothing short of stunning.
Parson Table
The Parsons Table from Alabama Sawyer is truly a beautiful addition to any home. It features a close-to-farmhouse table design with a bit more of a detailed beauty to it. It has four legs located on the outside, as a traditional farmhouse table offers, and it features an apron in the middle.
Legacy Table
The Legacy Table isn't your true farmhouse table, but it most certainly brings more natural inside than most others. It is a beautiful table with a live edge that makes it easy for you to fall in love with. It is hand cast at Sloss Furnaces, which is a National Historic Landmark. This table has a modern feel as well as a traditional element to it. The urban hardwood truly helps it to be the best choice for those seeking an impressive eco-friendly table.
Amicalola Table
If you are looking for a breakfast table or a dining room table that needs a round table, the Amicalola Table is an excellent choice. These are great conversation tables. Sit down on a Saturday night, perhaps with a deck of cards, and talk the night away. They also make the perfect place for homework after school. While functional, these tables are also beautiful with exuberant grain patterns. It is also hand cast at Sloss Furnaces with a modern, simplistic style to it.
Sunrise Table
This is a modern dining room table with something special to offer. The Sunrise Dining Table features a beautiful wood grain and is made of urban hardwoods like pecan, walnut, and others, based on what's available. It's ideal for a home with an eclectic style. The live edge table has a steel base for support, which helps to make it a bit more special.
Round Sunrise Pedestal Table
Just look at the refined texture and simplistic design of the round Sunrise Pedestal Table. This is a great table to sit down at with a few friends to enjoy a meal together. Or, it's small enough to tuck into an entryway to collect everything coming into the home while still making an impression on those who visit. You will love using this round table in your kitchen, too, perhaps it's the perfect size for your breakfast nook. It's sure to be an heirloom.
Orchard Table
Though this is a coffee table, we can customize it to your specs, creating the ideal place for your family. The Orchard Table is worth the customization thanks to its beautiful look and feel. It has a smooth texture and grain pattern that's captivating to look at. It's also made from all urban wood which means all pieces are unique. It also means you're doing your part to add something beautiful to your home that's made from expert craftsmanship that's also great for the environment.
Does Alabama Sawyer Make a Farmhouse Table?
Well, the answer to that is, it depends. What you think is a farmhouse table and what we think are likely to be different. The best thing to know is that we offer some impressively beautiful wood tables, including many that fit into the realm of farmhouse style.
To find out what's in stock that could fit your need, check us out. We are confident you will find something that you simply love here.