Kabocha Cake by Gjelina on Hickory Cutting Board by Alabama Sawyer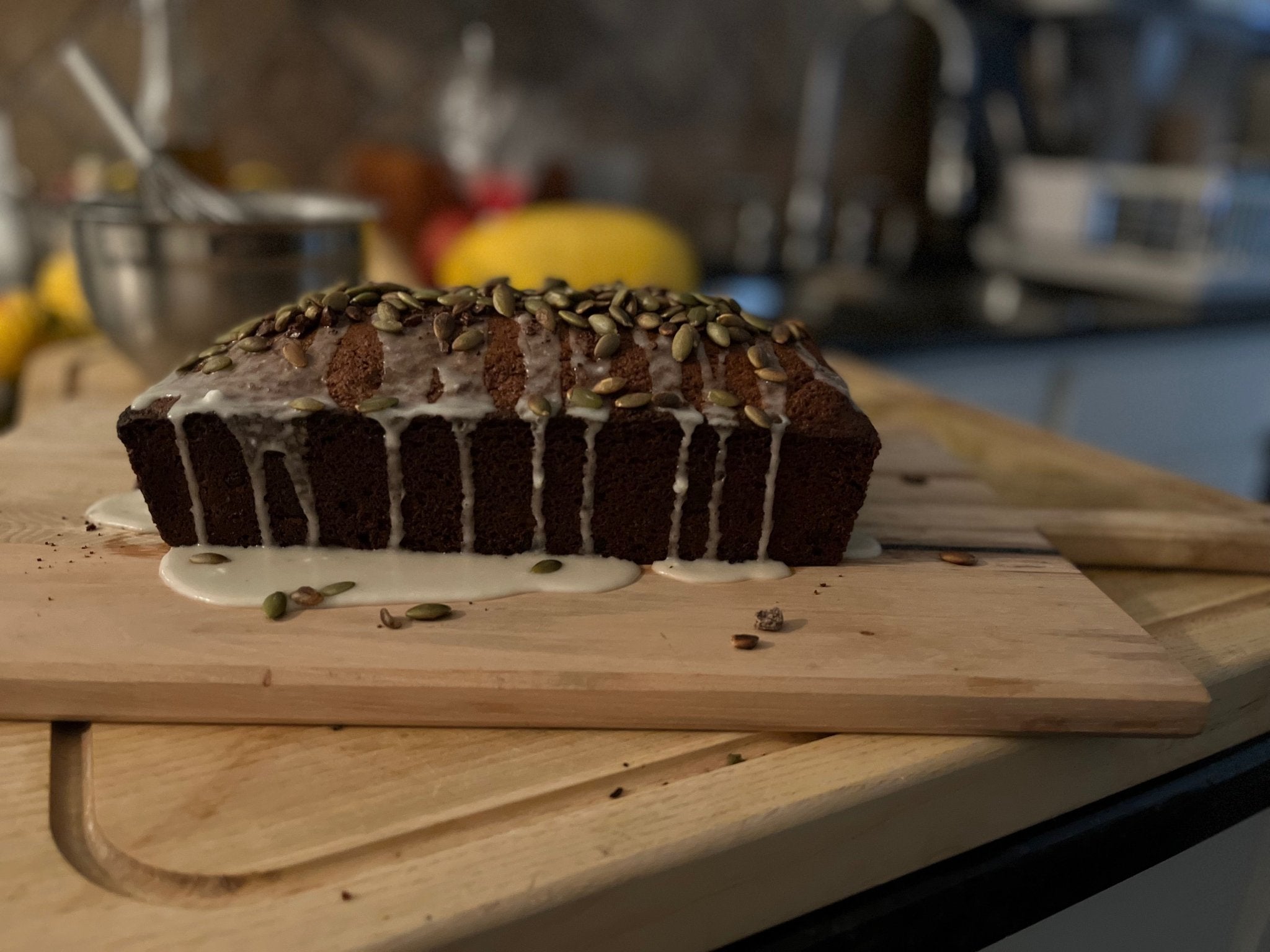 One of my favorite restaurants in Los Angeles, just a few blocks from our old shop in Venice, was Gjelina. If I was diligent enough to score a table, I would grab friends for a great meal in the restaurant. Luckily, they branched out into take away, where they have delicious slices and sweet treats, like a brownie that would blow your mind.
When it comes to squash in sweet pastries, I consider myself a connoisseur, mostly because I will try anything. 
When I saw Kobocha was in this recipe on Food52, I couldn't wait to try it. It did not disappoint.
If you like the hickory cutting board. You can buy it from us here.
Ingredients
Kobocha Cake
1

 

(1-pound / 455-gram) piece kabocha squash, seeded
Extra-virgin olive oil for drizzling, plus 1 cup plus 1 tablespoon (255ml)
1 1/2

 

cups

 

(180 grams) all-purpose flour
1 1/2

 

teaspoons

 

baking powder
1/2

 

teaspoon

 

baking soda

1

 

tablespoon

 

ground cinnamon

2

 

teaspoons

 

ground nutmeg
3/4

 

teaspoon

 

kosher salt
1 1/3

 

cups

 

(265 grams) granulated sugar

3

 

large eggs

8

 

ounces

 

(230 grams) bittersweet chocolate, finely chopped

3

 

tablespoons

 

raw pepitas (for the glaze)
Olive Oil Glaze
1 1/4

 

cups

 

(150 grams) confectioners' sugar, sifted

2

 

tablespoons

 

hot water

3

 

tablespoons

 

extra-virgin olive oil

2

 

tablespoons

 

crushed cacao nibs
Directions
Heat the oven to 425°F. On a sheet pan, drizzle the squash with olive oil, turn the piece cut-side down, and cook until very soft and beginning to caramelize around the edges, 30 to 45 minutes. Remove from the oven and let cool. Scrape out the squash flesh and transfer to a food processor. Pulse until smooth. I did it by hand, because I don't have a food processor.
Measure out 1 cup and let it cool to room temperature. Store any leftovers in the fridge for up to 5 days. I used mine for pumpkin turkey chili.

Heat oven to 325℉. Grease a 9x5-inch loaf pan.

Sift the flour, baking powder, baking soda, cinnamon, nutmeg and salt into a large bowl. In a medium bowl, whisk together the granulated sugar, olive oil, squash puree, and eggs. Make a well in the center of the flour mixture and pour in the squash mixture. Whisk until just combined. Stir the chocolate into the batter.

Pour the batter into the prepared pan and bake until browned on the top and a skewer inserted in the center of the cake comes out clean, 75 to 90 minutes. Let cool on a wire rack for 20 minutes. Run a knife around the edges and invert the cake from the pan and let cool on the rack for another 20 minutes. Transfer to a serving plate.

In a small, dry frying pan over medium heat, gently toast the pepitas until just fragrant and beginning to brown, 3 to 5 minutes. Let cool.

To make the glaze, in a small bowl, whisk the confectioners' sugar with 2 tablespoons hot water until you have a thick glaze. Add more confectioners' sugar or water as needed to create a smooth glaze with the viscosity of honey. Slowly drizzle in the olive oil, whisking constantly.

Pour the glaze over the cake, allowing it to drip over the sides. Sprinkle with the cacao nibs and pepitas and let the glaze set completely before serving, about 1 hour.